Fundraising Opportunities
Deedee Desserts Creamy No-Bake Cheesecake is a 5 minute dessert where our customers simply mix our packet with cream cheese, whipped topping, and place in a prepared pie crust. Our customers love the ease and low cost of the dessert.
 There are two ways having a Deedee Desserts Fundraiser can help your organization generate income.
 The first option would be a "Bulk Purchase", where your organization can buy our Creamy No-Bake Cheesecake Mix and sell at an event or spot sales. If choosing the bulk purchase, orders must be by case quantity of 48 per case (mix and match flavors), and all cost money is due at the time of purchase.
The second option is an "Order Writing Sale", where orders are taken for the product using our professional brochures. Your organization would submit the cumulative quantity of all mixes ordered via the brochures. Please review the Brochure/Shipping policy. If choosing the order-writing sale option, the cost money is due upon delivery of product. Whichever option you choose, we ask that a 2 week lead time be given to fulfill all orders.
For 2020, the cost to your organization for Deedee Desserts Creamy No Bake Cheesecake mix is $4.00 per packet. Many organizations choose a retail price of $6.50-$7.00 per packet, which means that each packet sold generates $2.50-$3.00 for your organization. The fundraising possibilities are endless with Deedee Desserts!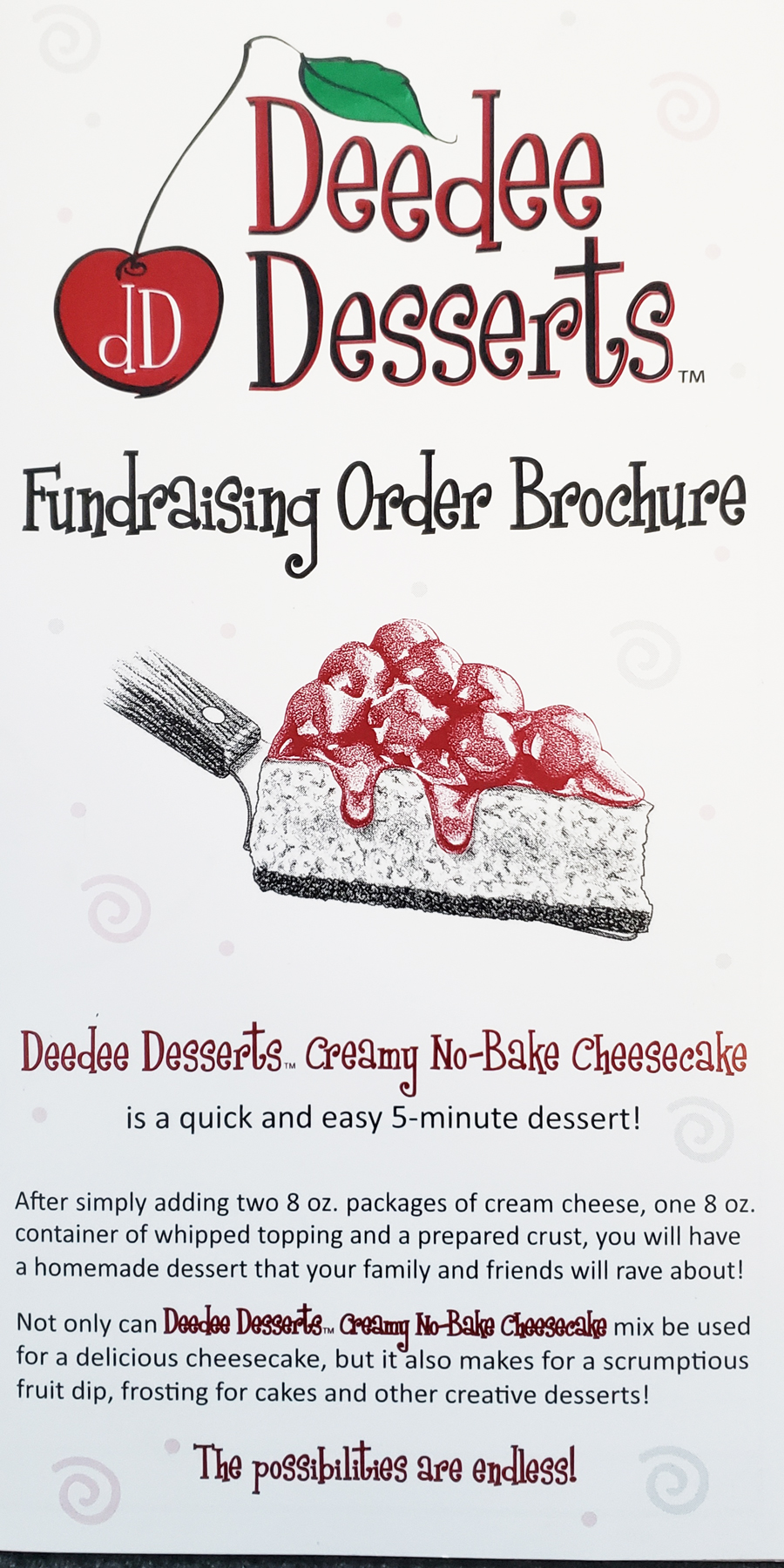 Please find fundraising information links below:
Fundraising Order Brochure– for order writing sales
Fundraising Order Sheet– for bulk purchase, and submitting your final quantities for an order writing sale
Letter of Commitment– this document will need to be reviewed, signed, and returned prior to submitting your Fundraising Order with Deedee Desserts
Please feel free to contact us at 716-627-2330 or by using the form below with any questions about teaming up with Deedee Desserts for your next successful fundraiser.
We look forward to working along with you to raise money for your organization!!